Read what our customers are saying...
These are just a couple of comments from our satisfied customers. We invite you to take a look and compare apples to apples! Contact us today...we look forward to discussing your personal trailer needs!
Testimonial from Frank Tamez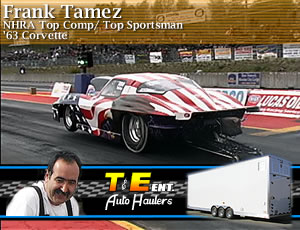 Just dropping a line to thank you and the whole gang at your wonderful establishment. I am truly amazed at the personal attention I received beginning from the moment I first contacted you until the point of sale. When I called today to ask a question, two weeks after the sale, you were on the phone immediately with the now familiar "Hello Frank". Actually I shouldn't be surprised. When you build the finest trailer in the business, you don't have to hide or fear phone calls after the sale. The trip home to WA State from your place was uneventful in large part thanks to the best pulling trailer I have ever owned. We pulled it home mid November and had some pretty hazardous early winter weather going over the Rocky Mountains. Crossing Sherman Pass and Elk Mountain in Wyoming we ran into ice covered roads made more treacherous by wind gusts up to 50 miles per hour. The trailer was rock solid even in cross winds. It tracks absolutely straight and stayed that way the whole trip. Not once did it even give a hint of swaying.
The last 2 weeks I have been preparing it for the beginning of our next race season. Taking my time loading the tools, and equipment. Installing the computer and such. I say taking my time because I seem to get distracted admiring the craftsmanship. The attention to detail is absolutely amazing. I was truly impressed when I saw it for the first time. Being a Car Dealer I believed that I would certainly find the deficiencies as time went on and the newness wore off. I guess the newness hasn't worn off yet because I still love this trailer. I have had the time to really look it over and it just keeps looking better and better. Thank you Earl and Todd for a wonderful buying experience and a great trailer.
Frank Tamez
Auto Max USA
Yakima, WA
NHRA Top Comp/ Top Sportsman
'63 Corvette