John Benoit's Custom Built T&E 40' Top Sportsman Trailer...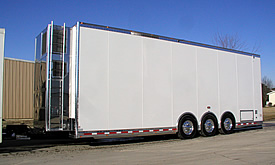 Click Photo Above to View Photo Gallery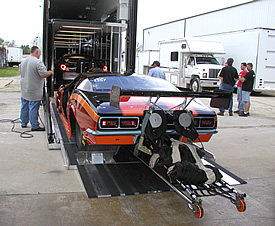 T&E Auto Haulers recently built a new 40' All Aluminum Top Sportsman Trailer for John Benoit. John and his wife Pam own and operate Benoit Electric, Inc. located in Barre, Vermont and are active in the NHRA Top Sportsman Class. The Benoit's put a lot of thought into exactly how they wanted their trailer built and the result is perfectly matched to their needs.
John and Pam's Pro Style 40' T&E All Aluminum trailer features a heavy duty suspension system utilizing Watson Chalin axles and a custom built T&E 5th wheel tongue which allows them to pull the trailer behind their custom totorhome. The custom built T&E rear lift gate allows them to put one of their cars in the attic level of the trailer and to load their other race car below in the lower storage area. The trailer also features a fully polished set of extrusions as well as a polished stainless sheeted front box unit that holds a large generator unit, air compressor and a/c unit. The pit side of the trailer has a row of power solenoid actuated quartz lights with flush doors that provide for excellent lighting during late evening race sessions.
The main entry and rear manway doors of the trailer feature custom built T&E polished aluminum door trays and tool box holder. The interior work area of the trailer has lots of custom built cabinetry covered in special laminate that John and Pam personally picked out. There are cabinets to hold all their race parts and accessories along with a Nitrous Bottle Filling Station at the front of the work bench. There is also a portable overhead interior engine changing beam to allow for easy access to spare transmissions, engine assemblies and other heavy items through the main side entry door. Just forward of the main entry door there is a full height cabinet which has specially fabricated T&E Aluminum sliding shelving that allows easy access to parts and to the rear of the main door is a large cabinet with sliding shelves that holds their spare transmissions. Lista cabinets located in the main work bench provide storage for John's tools and other smaller parts. In addition, fuel jug racks are located in cabinets located over the fenderwell of the trailer.
For entertainment (and for watching race video) the is an entertainment center which holds an LCD TV, DVD Player and Stereo system. Just to the rear of the entertainment center is a bank of storage cabinets that feature fold down doors with stainless sheeted tops. These serve as work surfaces and also allow John an area to hook up a laptop. The entire interior of the trailer also features excellent lighting which is located both on the ceiling as well as under cabinet lighting over the work bench. Upstairs in the attic level there are slick mounts and also ladder mounts, pit table mounts and an awning pole rack. Please take a look at the photo's below to see all these features as well as the numerous ones not mentioned.
T&E Ent. Auto Haulers manufactures each of our trailers paying close attention to strict quality control requirements and keep the customer involved throughout the entire building process. As a result, all of our trailers are built to exactly match each customers needs, pull like a dream and are built for the "long haul". You'll also get top resale value when it comes time to sell too! Why not give us a call today at 815-426-2761 for a no pressure quote on a trailer to fit YOUR operation? If you'd like to learn more about what we have by using an online format, please use our online contact form to express your needs - we'd love to talk informally with you.
---
John Benoit's T&E 40' All Aluminum Top Sportsman Trailer - Exterior Views
HINT: CLICK PREVIEW PHOTOS BELOW TO VIEW LARGER SAMPLES IN A GALLERY FORMAT
---
John Benoit's T&E 40' All Aluminum Top Sportsman Trailer - Interior Views



Note: Many of the storage cabinet options shown are also available on our smaller trailers. We welcome your personalized storage ideas and can custom build most anything you desire.



Note: Many of the storage cabinet options shown are also available on our smaller trailers. We welcome your personalized storage ideas and can custom build most anything you desire.
---
Upgrade Your Current Trailer with High Quality Accessories

T&E is a Dealer for Arrow Awning Products and Accessories. We can supply their parts custom configured and installed for your unique needs. Our other awning suppliers are Carefree of Colorado, and Girard Systems. We can have a custom awning manufactured for your trailer and professionally installed to your specifications.
T&E can also upgrade your current trailer with custom work area cabinets, awnings, ramps and much more. We are also a full service facility capable of a wide range of trailer repairs and maintenance. Please contact us for a no obligation quote. Click here for more information about our service and repair capabilities.
---
T&E Auto Haulers offers a full range of All Aluminum Trailers designed to meet the needs of motorsports enthusiasts. From our Rivet Side Pull-a-Longs to Pro Semi Trailers featuring the ultimate in Quality Construction...Aluminum Plate Side...we can meet the needs of the most demanding racer. And, we are proud to offer a wide variety of options and amenities to make your trailer custom tailored to Your Operation!
Please feel free to take a few minutes and download an Options List showing available configurations and options for our complete line of trailers. Print it out and mail it to us for a no obligation quote. You may also fill this form out online and return it to us instantly via email by visiting our Quote Request page.