Photo Gallery Featured Trailer - T&E 53' Gooseneck
Owner: Brent Kolada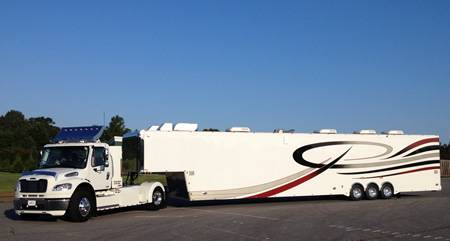 T&E recently built this 53' Gooseneck Trailer for Brent Kolada who travels around the U.S. and Canada with a mobile on-location surgical instrument repair service. Brent wanted his trailer to be a combination mobile business and RV due to the fact that he is on the road for long periods of time traveling to various medical facilities throughout the year. The trailer features separate work and office/living areas and allows Brent to be highly productive in his business travels. Brent put a lot of personal research and planning into exactly what he needed in a trailer and T&E worked closely with him and successfully brought those plans to fruition.
One of the main requirements Brent had was that the trailer be insulated to a much higher standard than usual. Brent works in Canada quite frequently and the cold weather there can be brutal at times. To ensure against excessive heat loss T&E doubled the side wall insulation we normally use and also fully insulated the entire floor of the trailer. Interior heat is provided by an OASIS Hydronic heating system unit. For the summer months, chilled, conditioned air is provided by a series of roof mounted air conditioning units.
The rear portion of the trailer is a fully equipped surgical instrument repair shop which houses all the specialty tools and equipment that Brent needs to perform his daily work. The fully climate controlled work area also features a JET air filtration system to filter contaminants from the air. Under the main work bench T&E custom built a high powered vacuum system with suction tubes running up to each tool to ensure that debris from the tool restoration processes is contained properly. To make the long days at work more enjoyable, there is a high powered multi-speaker stereo system installed within one of the benches in the work area.
The front office/living area of the trailer features all the amenities needed to both conduct Brent's daily business activities and also to afford him a place to relax after working hours. In addition to the office desks and other related items, there is a large leather sofa with an HD LCD monitor directly across from it. Brent can relax and enjoy his favorite television programs via the on board satellite system, watch a favorite movie in full HD 1080 clarity via Blu-Ray or listen to his favorite music through the high powered stereo system. There is even a fully equipped bathroom w/shower and a special Incinolet toilet system which doesn't require water or a related sewage tank. To visualize what T&E is capable of, please take a moment to tour through Brent's trailer via the photo galleries below. [A PDF Photo Pack is also available for offline viewing.]
T&E Ent. Auto Haulers manufactures each of our trailers paying close attention to strict quality control requirements and keep the customer involved throughout the entire building process. As a result, all of our trailers are built to exactly match each customers needs, pull like a dream and are built for the "long haul". You'll also get top resale value when it comes time to sell too! Why not give us a call today at 815-426-2761 for a no pressure quote on a trailer to fit YOUR operation? If you'd like to learn more about what we have by using an online format, please use our online contact form to express your needs - we'd love to talk informally with you.
---
Brent Kolada's T&E Mobile Surgical Repair Service Gooseneck Trailer - Exterior Views
HINT: CLICK PREVIEW PHOTOS BELOW TO VIEW LARGER SAMPLES IN A GALLERY FORMAT

Brent's trailer was custom painted to match his towing vehicles paint job. Feel free to ask us about the optional trailer paint services available to perfectly compliment your tow vehicle or teams colors. T&E also offers custom awnings by Girard, Arrow and other quality manufacturers.
---
Brent Kolada's T&E Mobile Surgical Repair Service Gooseneck Trailer - Interior Living Quarters Views



Note: T&E has the ability to custom build your trailers living quarters to match whatever level of comfort and convenience you desire. From basic living quarters to a luxurious lounge with all the comforts of home, T&E has the experience and knowledge bring your ideas into reality.
---
Brent Kolada's T&E Mobile Surgical Repair Service Gooseneck Trailer - Interior Work Area Views



Note: Work areas in T&E trailers can be matched to your unique requirements. We welcome your personalized ideas and can custom build most anything you desire.
---
Upgrade Your Current Trailer with High Quality Accessories

T&E is a Dealer for Arrow Awning Products and Accessories. We can supply their parts custom configured and installed for your unique needs. Our other awning suppliers are Carefree of Colorado, and Girard Systems. We can have a custom awning manufactured for your trailer and professionally installed to your specifications.
T&E can also upgrade your current trailer with custom work area cabinets, awnings, ramps and much more. We are also a full service facility capable of a wide range of trailer repairs and maintenance. Please contact us for a no obligation quote. Click here for more information about our service and repair capabilities.
---
T&E Auto Haulers offers a full range of All Aluminum Trailers designed to meet the needs of motorsports enthusiasts. From our Rivet Side Pull-a-Longs to Pro Semi Trailers featuring the ultimate in Quality Construction...Aluminum Plate Side...we can meet the needs of the most demanding racer. And, we are proud to offer a wide variety of options and amenities to make your trailer custom tailored to Your Operation!
Please feel free to take a few minutes and download an Options List showing available configurations and options for our complete line of trailers. Print it out and mail it to us for a no obligation quote. You may also fill this form out online and return it to us instantly via email by visiting our Quote Request page.